Page 2 - The Perfect Mound
P. 2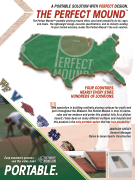 A PORTABLE SOLUTION WITH PERFECT DESIGN. THE PERFECT MOUND
The Perfect MoundTM portable pitching mound offers consistent playability for ALL ages and levels. The lightweight design, accurate specifications, and an industry leading 10-year limited warranty, makes The Perfect MoundTM the only solution.
            FOUR COUNTRIES. NEARLY EVERY STATE. HUNDREDS OF LOCATIONS.
"We specialize in building synthetic playing surfaces for youth and pro's throughout the Midwest.The Perfect Mound is truly its name- sake and we endorse and prefer this product fully.As a pitcher
  myself, I have been on many different surfaces and mounds and this product is the only portable option that has true playability.".
JAMESON SHELEY General Manager Byrne & Jones Sports Construction
        Easy assembly process - see the video now!
    PORTABLE.